Ending all sexual violence will require undoing systems of oppression. Though society has made great strides in altering our history, much work still needs to be done. This work involves community partners working toward a better future. How can we, as a system, do this? 
Education on the root cause of sexual violence

Understanding the role history has played in oppression

Awareness surrounding privilege and its ability to enable oppression

Talk, inform, educate, and make changes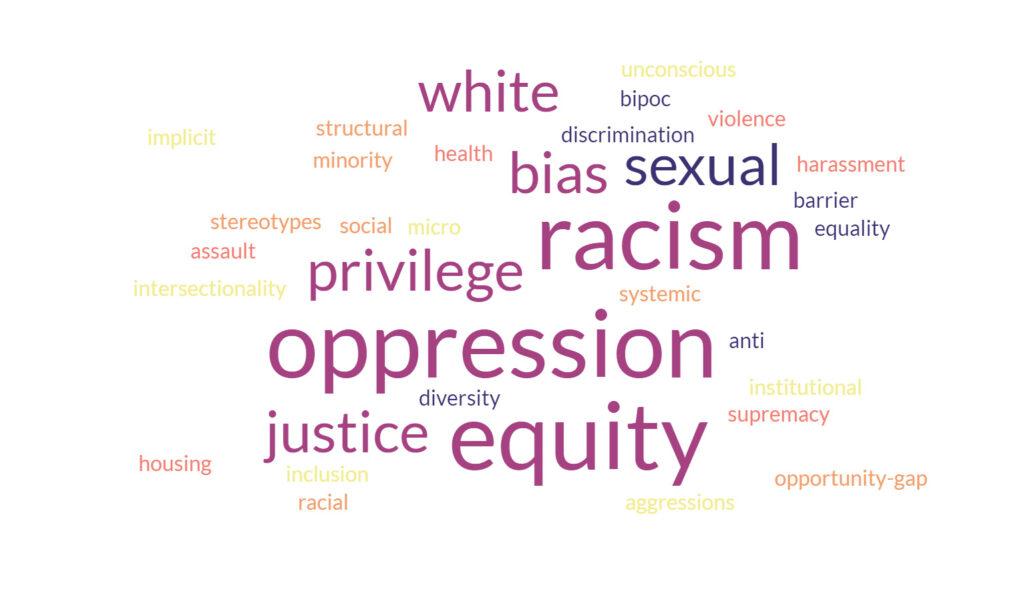 What is Social Justice?
Regardless of vulnerabilities, each human deserves to have their inherent rights respected, no matter what; that is the basic definition of social justice. As much as people may claim to have fundamental human rights, there are still inequities that occur based on any of the
following
:
Sexual orientation

Race

Gender

Disability

Spirituality

Ethnicity

Economic status

Age

Citizenship

Religion

And more! 
As conversation topics, these often lead to discomfort, leading to communities, people, or organizations not wanting to discuss them. However, everyone must be ready and willing to be vulnerable to promote change and equity. 
"Vulnerability is not winning or losing; it's having the courage to show up and be seen when we have no control over the outcome. Vulnerability is not weakness; it's our greatest measure of courage." -Brene Brown.
Oppression and Sexual Assault
Examples of systems of oppression include sexism, homophobia, ageism, classism, ableism, and, lastly, racism. The following
statistics
support that some of these systems are at a much higher risk of sexual violence: 
21% of transgender, genderqueer, and nonconforming college students report being sexually assaulted, placing them at a higher risk than college students not falling into these categories.
American Indians are twice as likely to experience rape/sexual assault as all races
29% of non-hispanic black women report being raped at some point in their lifetime
More than 30% of individuals with intellectual disabilities have encountered sexual abuse
Almost half of all transgender individuals have experienced sexual assault at some point in their lives
More than 30% of Hispanic women reported being the victim of sexual assault
Sexual Assault Awareness
Sexual assault, sexual abuse, and sexual violence may be used interchangeably and vary wherever you are. In general, each involves any unwanted sexual contact. Examples of the various 
types
of sexual assault may include:
Rape

Sexual assault

Sexual harassment

Sexual abuse/incest

Unwanted touching

Sex trafficking

Exposing someone's body to others without consent

Words of a sexual nature that occur without their consent

Any type of sexual

coercion
Sexual assault is a genuine public health concern, with an assault occurring every
68
seconds in the United States alone and a vast
majority
of women being affected. According to the World Health Organization (
WHO
), a multi-country research study demonstrated that sexual violence prevalence ranged from less than 10% in Japan to greater than 50% in Ethiopia. In a controversial study on sexually violent offenders in South Africa,
14.3%
reported having raped current or previous partners. Sexual assault rates in the Caribbean and Latin America ranged from
5-15%
. 
Over the past several years, the anti-sexual assault movement has amplified but continues to silence the voices of the oppressed. These acts of silence result in underreporting and undeserving specific communities or populations. The overall goal of ending and preventing sexual violence is to provide services to all survivors equally. 
The Intersection of Forensic Nursing and Social Justice
Intersectionality
is a word used to describe how individuals can simultaneously be the victim of multiple forms of discrimination and oppression. 
The
principles
of equity, participation, access, and fundamental human rights are all essential to health promotion and are applied by forensic nurses. Forensic nurses are skilled and educated in social justice theory and thrive on identifying inequities. These nurses are highly trained in demonstrating compassionate nursing care to ALL individuals victimized by trauma and sexual assault. Forensic nurses strive to extend respect and dignity to everyone as they navigate both the healthcare and criminal justice system. 
The International Association of Forensic Nursing (IAFN) joined the campaign long ago to help bridge the gap between social justice inequities and sexual violence. Some of the ways our organization has chosen to step up include the
following
:
The IAFN offers free social justice implicit bias

training

for nurses

We have identified social justice as a critical pillar in our organizational strategic plan

We have also incorporated equity, inclusion, and diversity strategies into our Board of Directors, staff application, and interviewing processes.
Do you want to be an Ally?
April is sexual assault awareness month, so we are taking the opportunity to inform, educate, and show up. We challenge you to do the same. The IAFN is asking you to be vulnerable with us and join us in promoting equity and respect in our communities and places of business. How will the future look if we aren't working together to create real, lasting change on a massive scale? 
If you are willing to support various groups you don't usually belong to and challenge the social norms we all know exist, then we ask you to come along as an ally. This process involves becoming more self-aware of privilege's influence as well as unlearning old and learning new thoughts.
Steps
involved in becoming an ally include:
Knowing and understanding your privilege

Educate yourself

Allow yourself to be held accountable

Create a safe space for those with marginalized identities

Inform and educate others with privilege

Allow yourself to listen to the oppressed
Final Thoughts
Sexual assault, social injustice, and systems of oppression are all public health issues on a global scale. As a whole, we cannot correct one without the other, despite attempts to do so. Moving forward, society will benefit greatly by better understanding the root cause of sexual assault and how it is deeply connected to social injustice and systems of oppression. To learn more, please visit the
IAFN
or the National Sexual Violence Resource Center (
NSVRC
). 
About the Author:
 Krystle Maynard is the creator of Innovative RN Solutions, which focuses on healthcare content writing (e.g., blogs, E-books, emails, academic coursework, and educational content for healthcare personnel and patients). She has been a nurse for more than a decade, specializing in medical-surgical and critical care nursing. Krystle is a proud SANE; she works with a local nonprofit in providing services to survivors of sexual assault at multiple local healthcare facilities in her community. She also has a long-standing history as serving as an adjunct faculty member for a college of nursing. Krystle lives in Kentucky with her husband and children and her two favorite hobbies are traveling to various destinations (mainly beaches) and concerts. Pleaser reach out to her at 
LinkedIn
, if you'd like to connect.
Edit