Get your SANE Course Approved!
The IAFN now provides the tools you will need to create a SANE course that meets the SANE Education Guidelines for the adult/adolescent, pediatric/adolescent, or combined didactic SANE course.
Benefits to providing an IAFN-Approved SANE Course
Promote standardized, evidence-based education and practice for Sexual Assault Nurse Examiners (SANEs)
Align your course with the most current edition of the IAFN SANE Education Guidelines
Ensure your attendees that your course meets the eligibility requirements to sit for the SANE certification exam
Increase your course marketability
The approval process requires a minimum of 6 weeks from IAFN's receipt of all necessary paperwork and payment to final response and recommendation.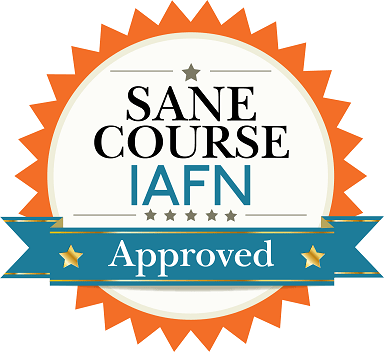 $500 members/$750 nonmembers, which includes:
the review of your program to earn your course the IAFN Seal of Approval AND
you will become an approved Provider of Continuing Nursing Education to provide contact hours for your class through the IAFN's Approver Unit*.
Start the process for Approval with Contact Hours here.
*The IAFN is an approved provider of continuing nursing education through the American Nurses Credentialing Center's Commission on Accreditation.
---
Are you already an accredited provider? If so, you may award contact hours through your own agency's process. Although the cost is the same, you are not required to use IAFN as your provider of Contact Hours. Please know that the SANE Course Review and Approval process may result in changes to your program and a need to resubmit your documents to your provider of Contact Hours. Read more about the Approval-Only process or contact ce@forensicnurses.org for more details.
Download Infographic